Surveillance when and where you need it
Available in fixed and mobile trailer configurations, Stallion surveillance solutions are self-sustaining and require no external connectivity, power, or existing infrastructure. From construction site surveillance to parking lot security, our surveillance trailers can be rapidly and easily deployed for virtually any application where video monitoring is needed. And, with our advanced Video Management Platform, you can remotely monitor your feeds from any location or device.
Features
Mobile and scalable for operations of all sizes
Camera options customized to fit your site and use case
High-resolution photo and video capture
24/7 monitoring services available via our SwiftWatch™ virtual guard solution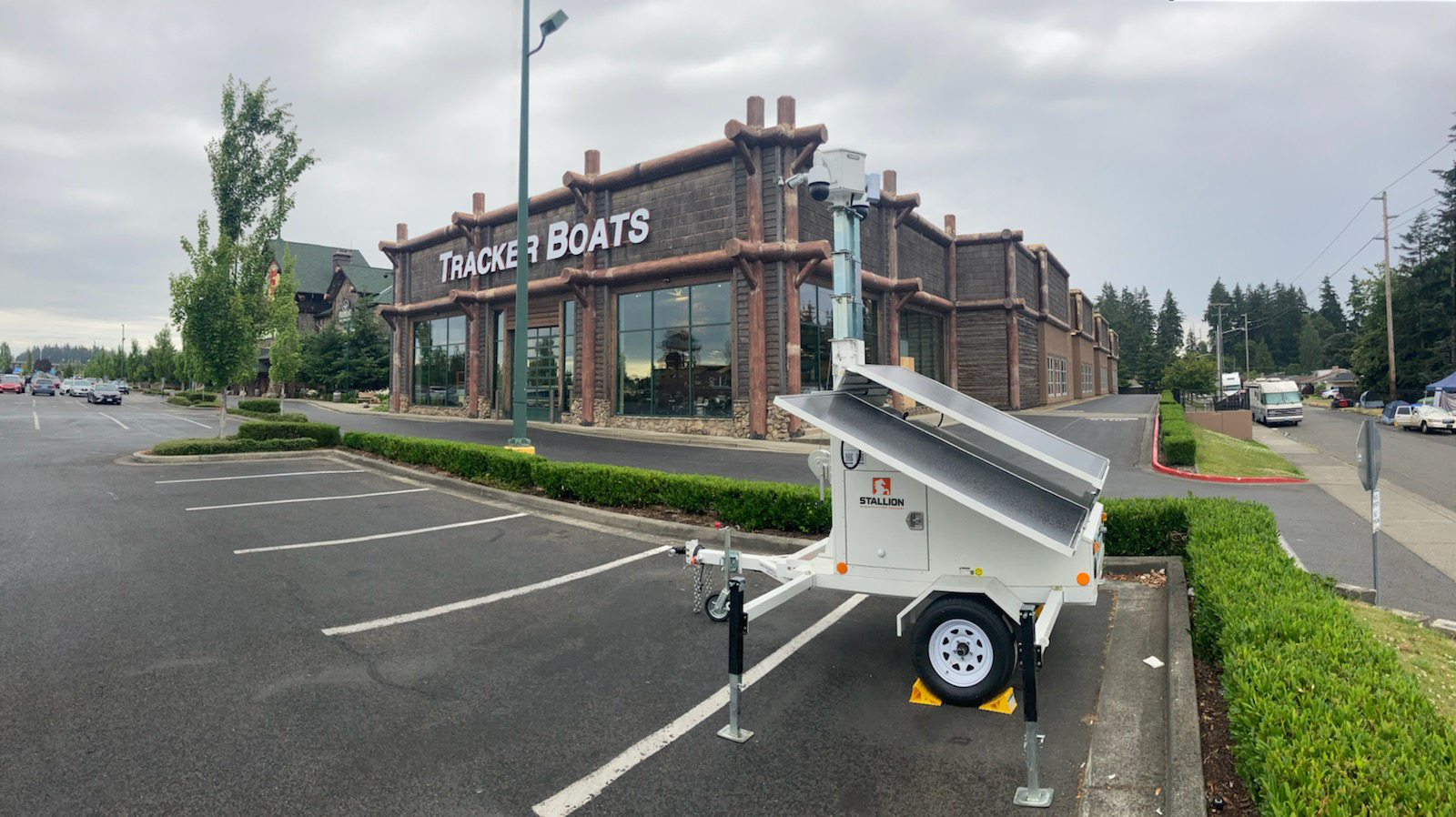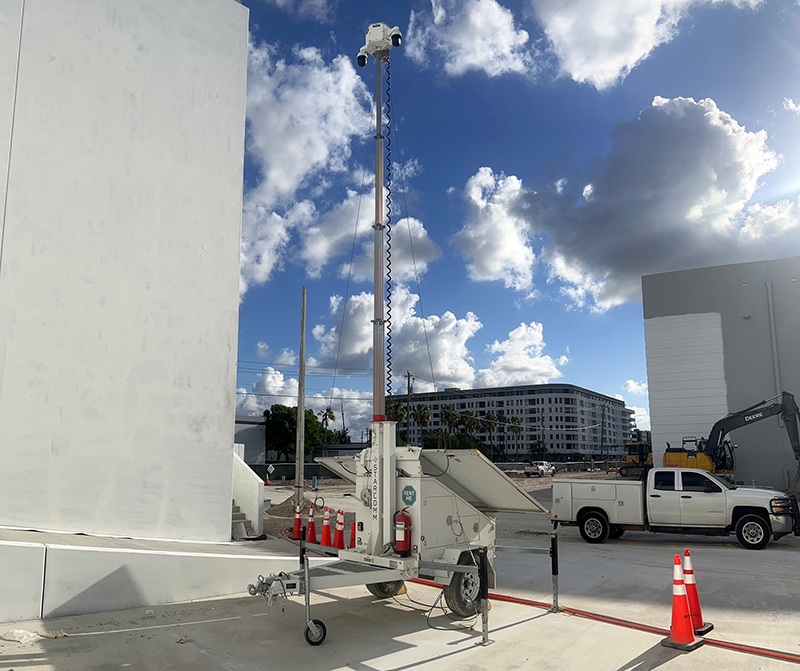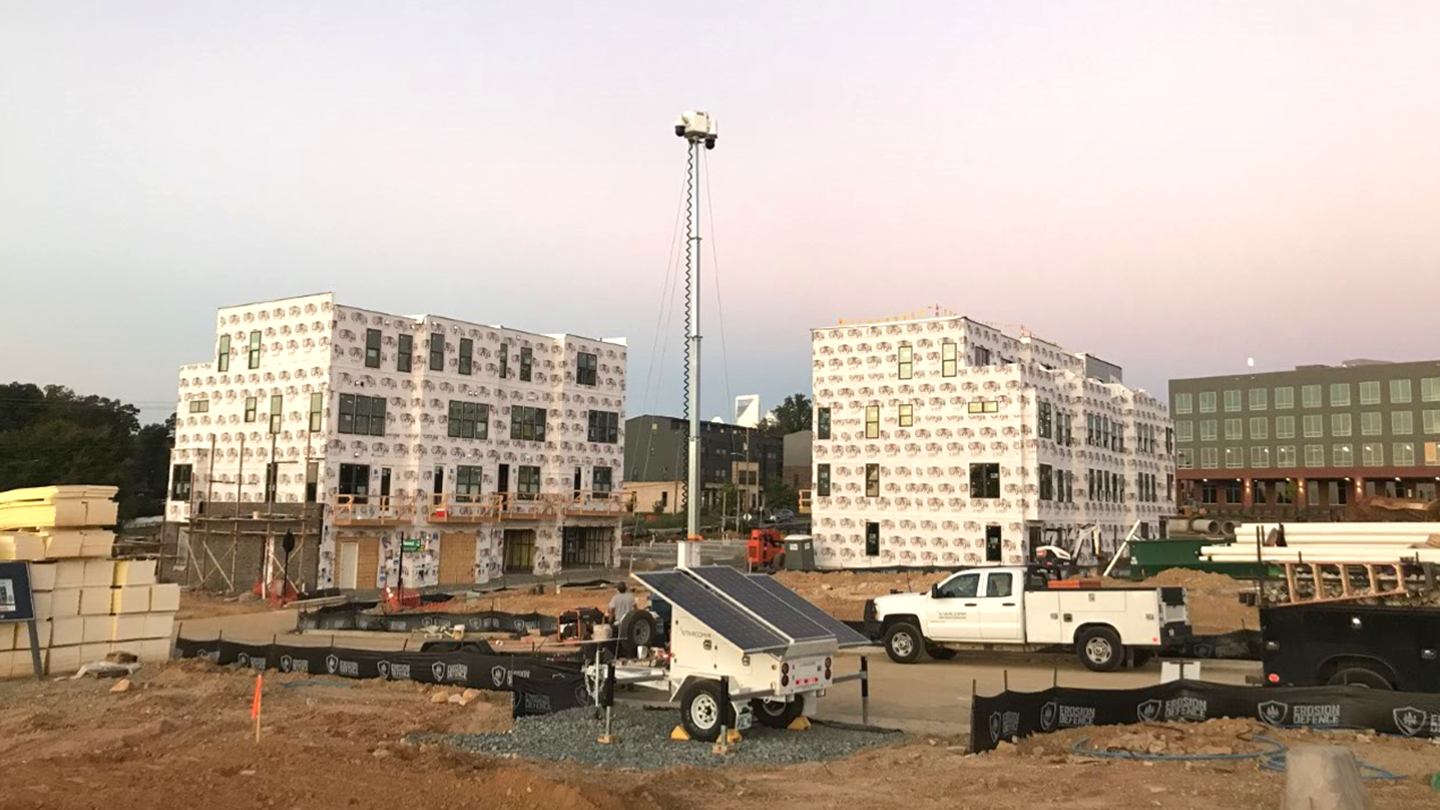 Rapidly deploy a surveillance solution that works anywhere
24/7 Surveillance monitoring for any jobsite
Stallion mobile surveillance trailers wirelessly monitor your jobsite with the power of clean energy. No external power, WiFi connection, or existing infrastructure needed.
Request a Quote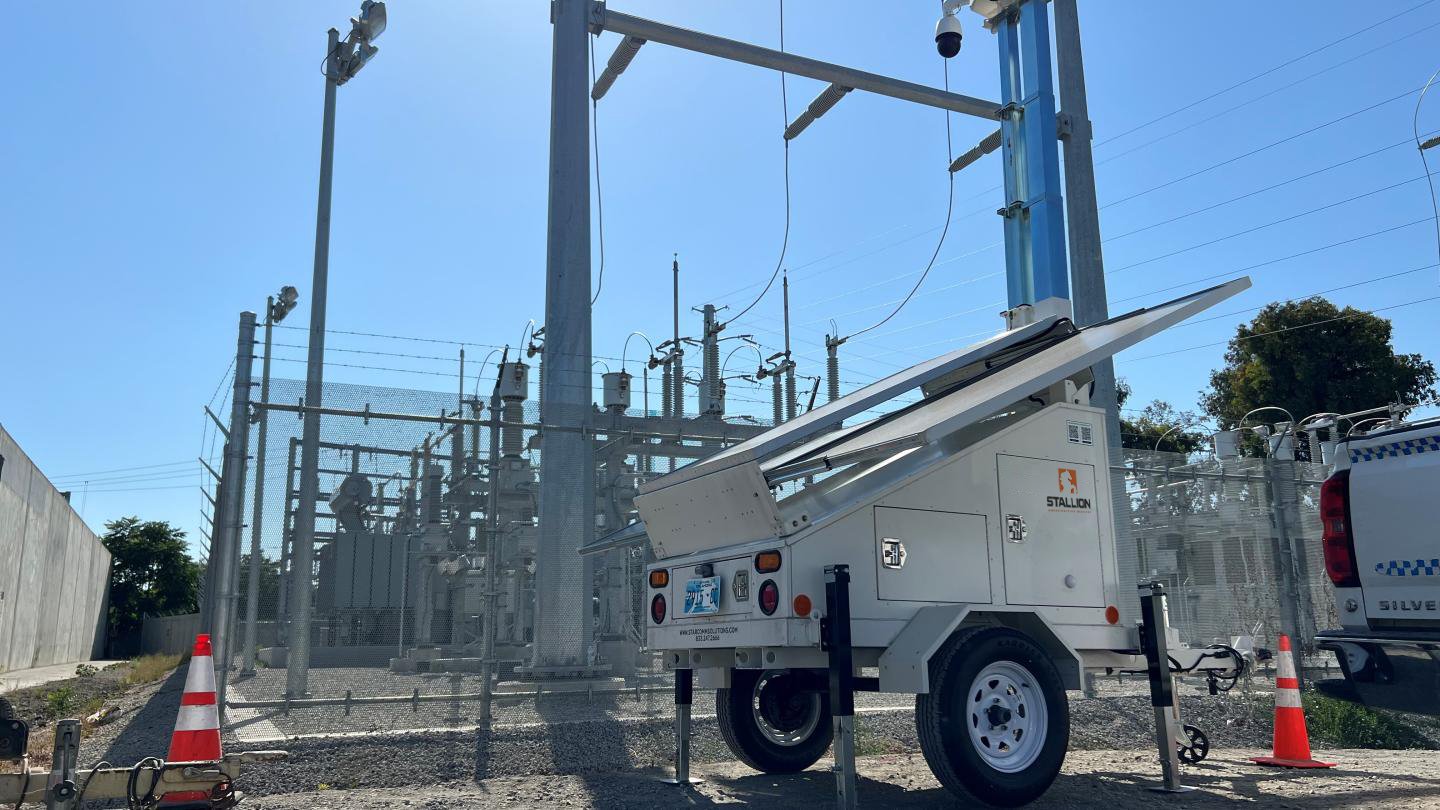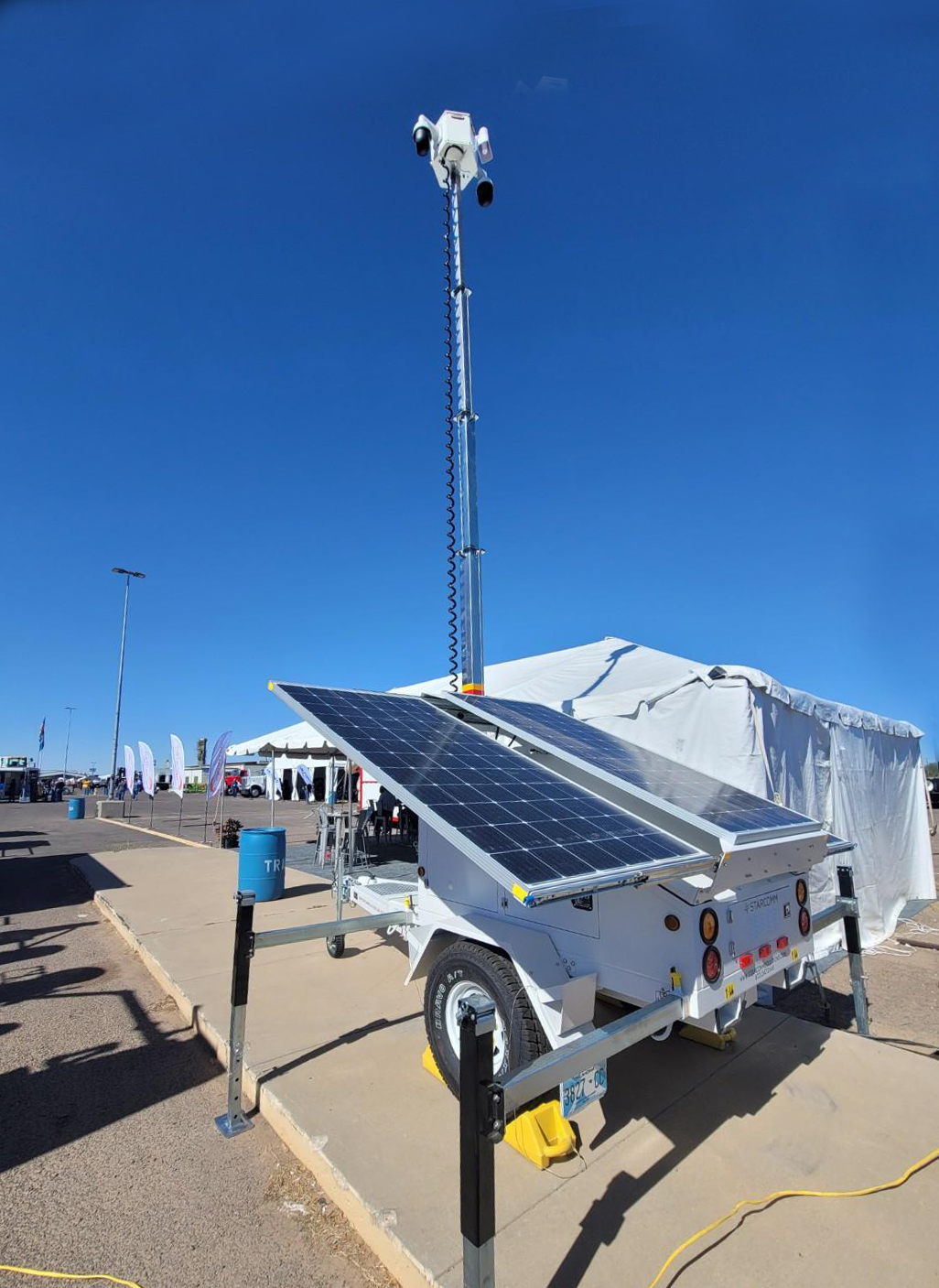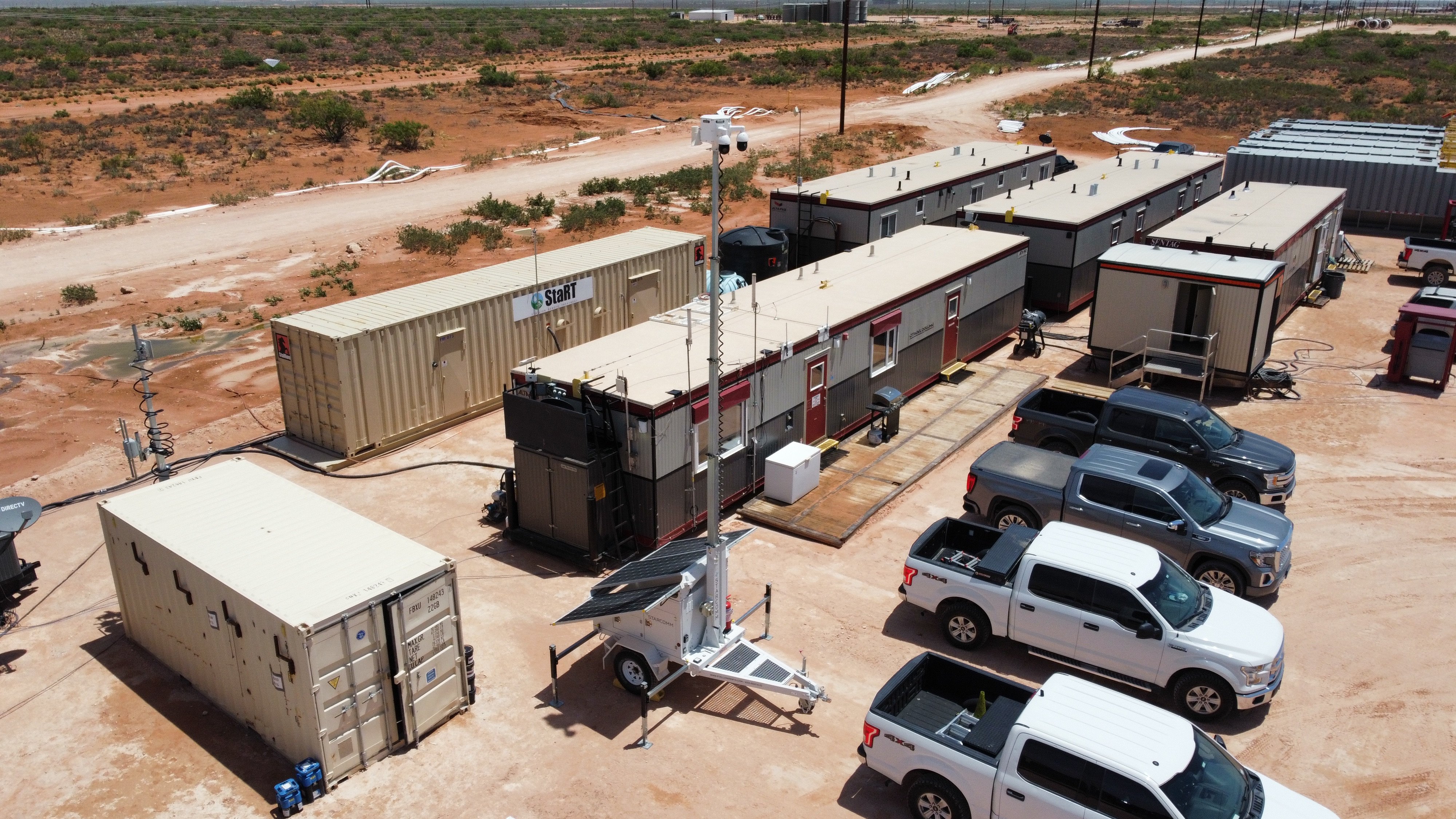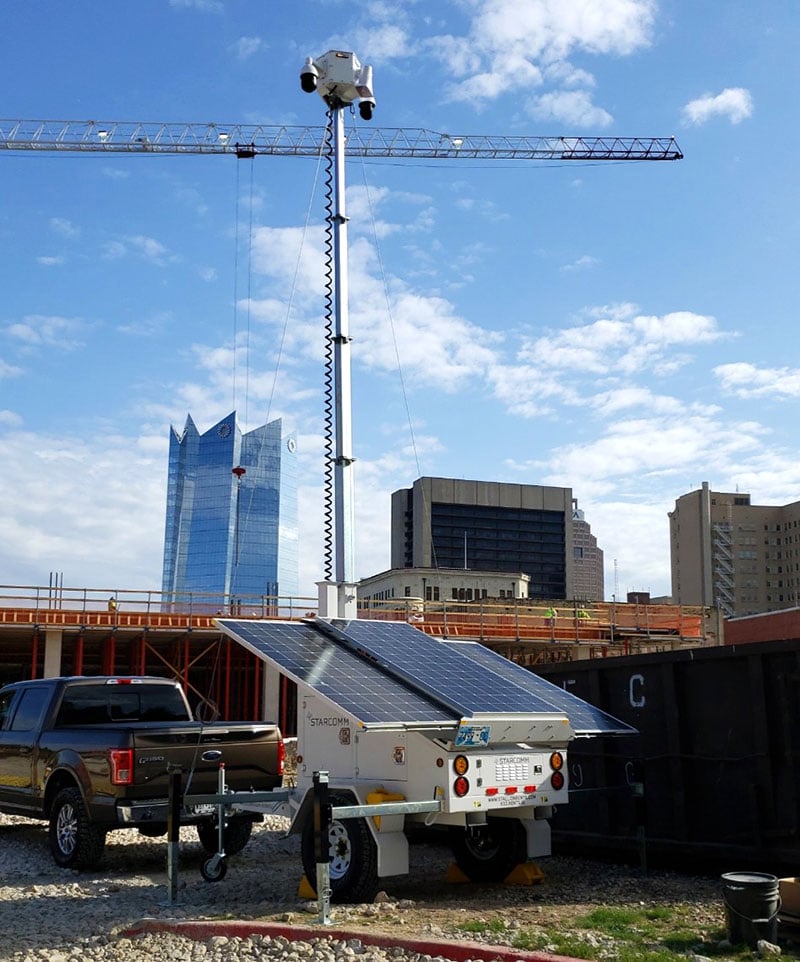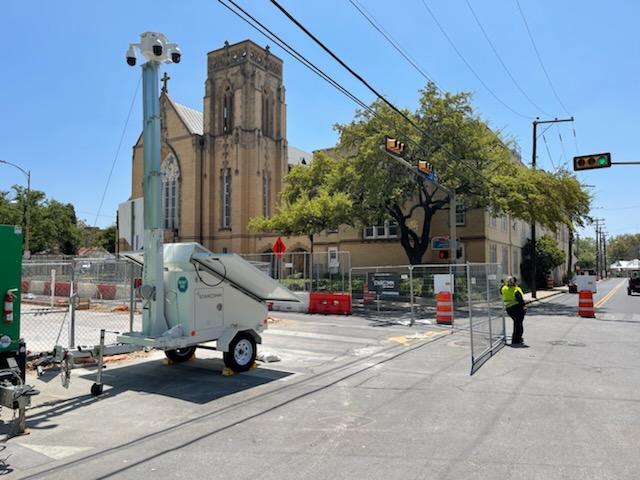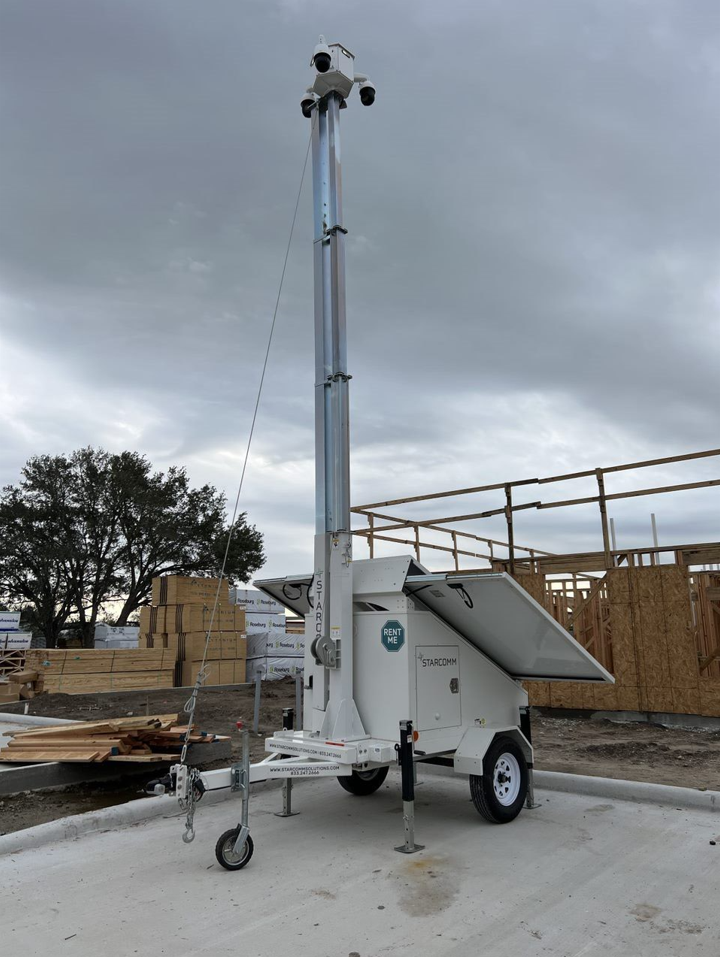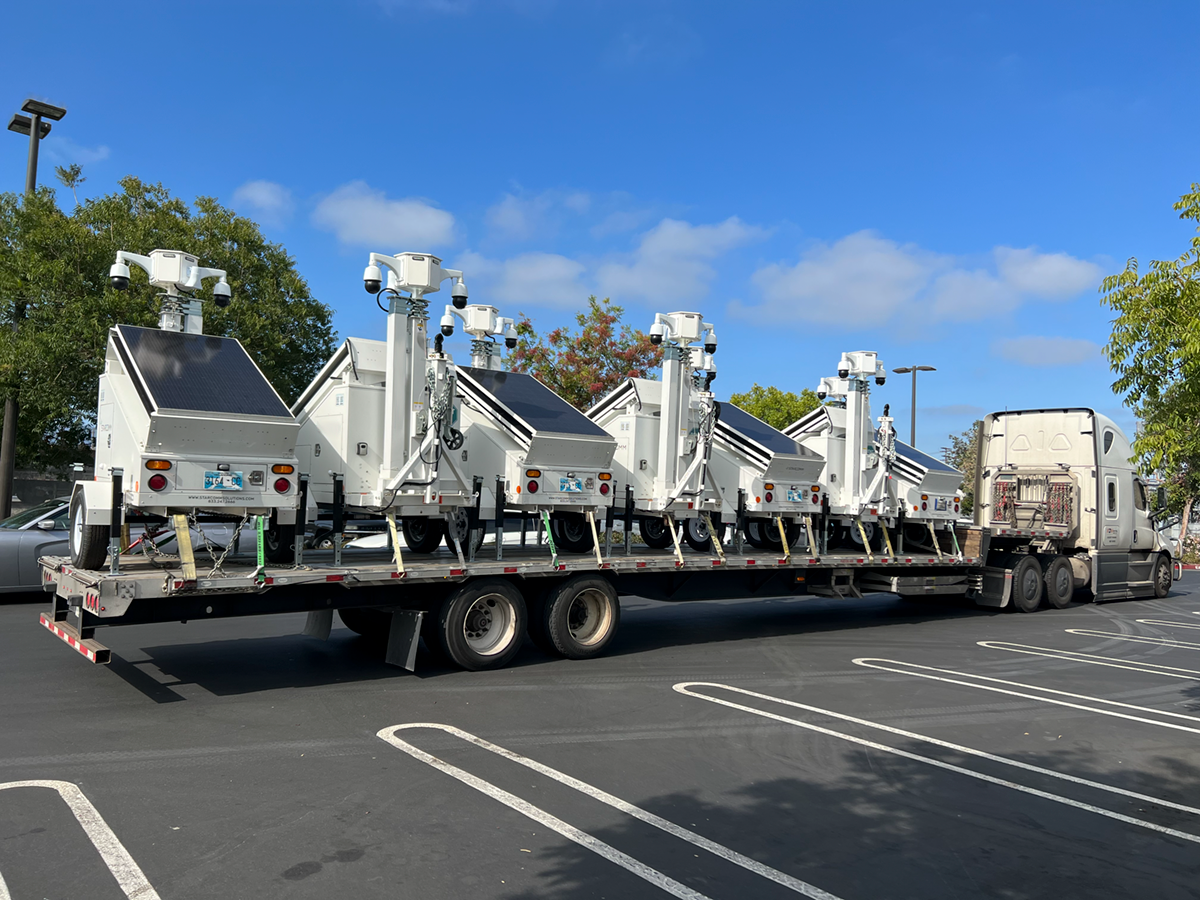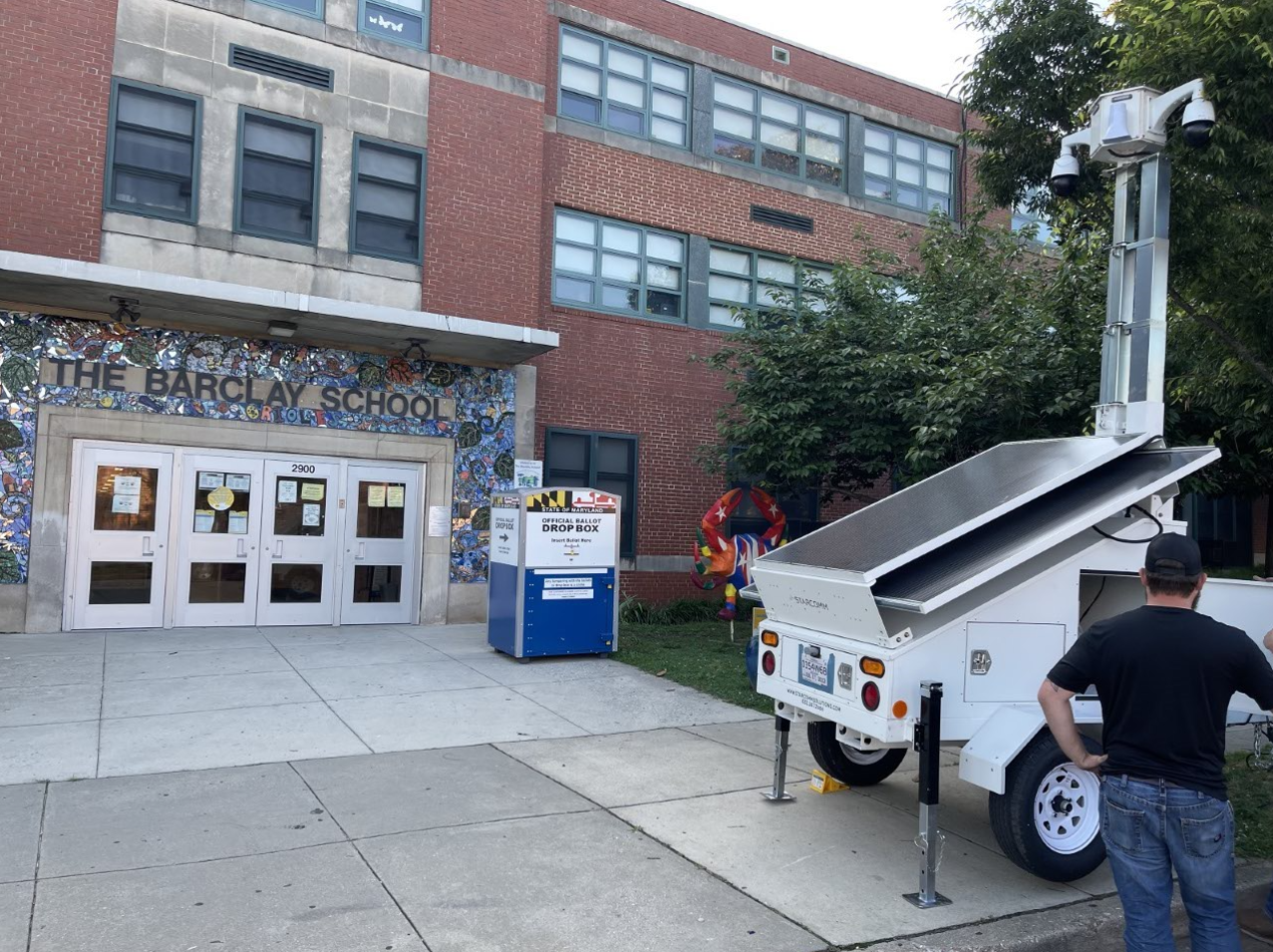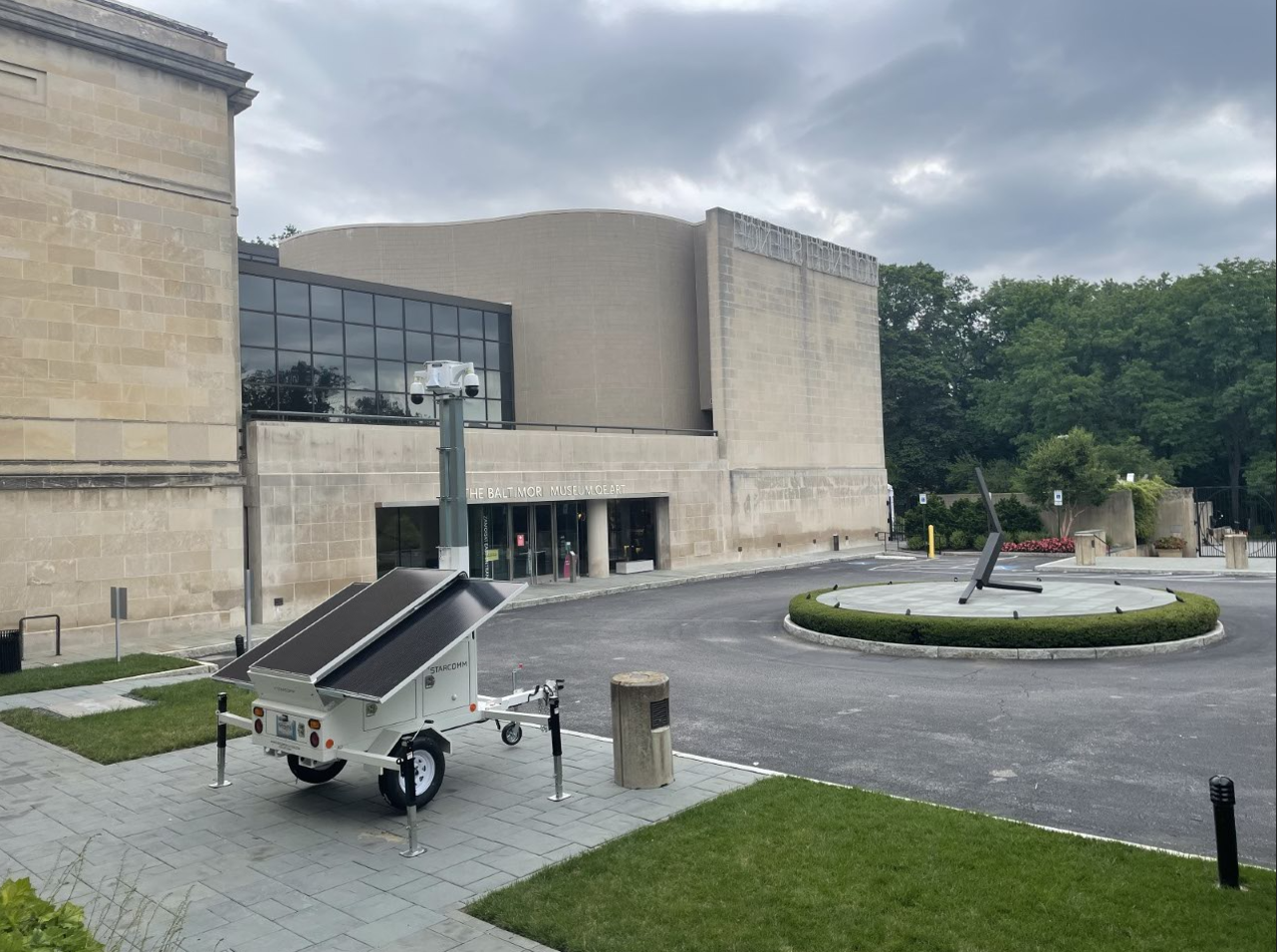 The anatomy of a Stallion mobile security trailer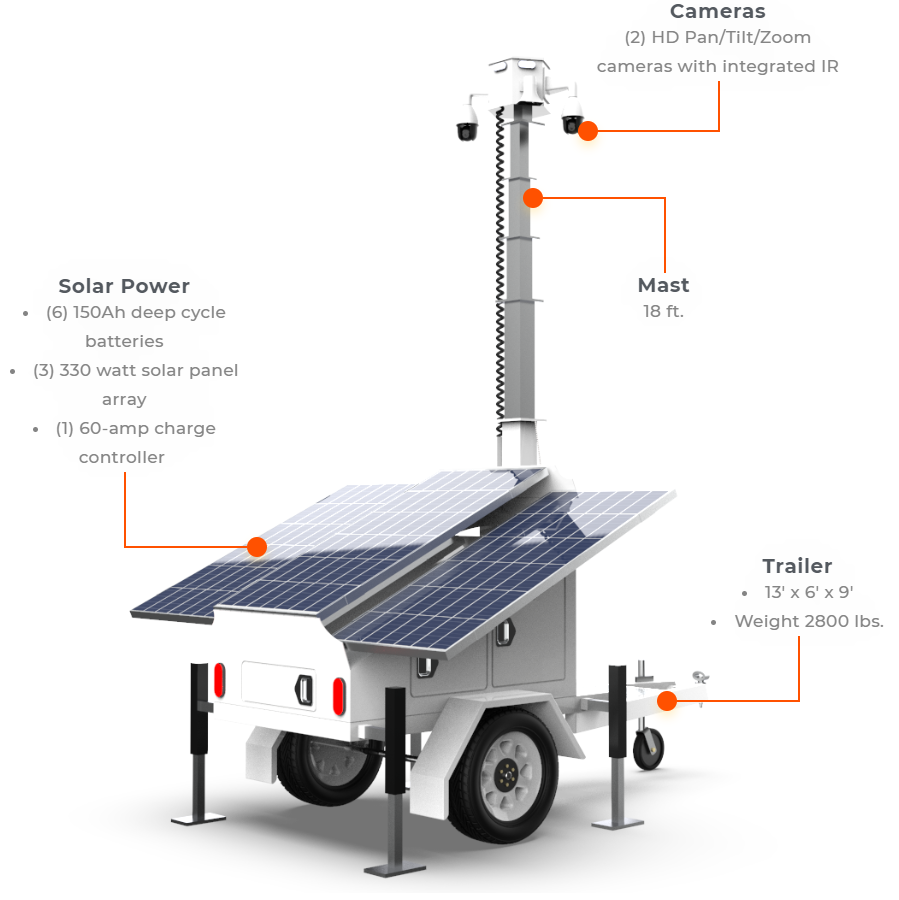 A stand-alone security solution
Our surveillance trailers are designed for instant deployment, even on sites with low connectivity, and are capable of self-sustaining, unattended operation for extended periods of time. And with available software enhancements and managed service support, Stallion delivers a turnkey solution tailored for your use case.
Software
Seamlessly integrate with our Video Management Platform for custom notifications and simplified data management.
Optics
Get a solution customized for your needs with our range of PTZ, thermal (FLIR), bullet, dome, and LPR cameras.
Connectivity
Enable cloud-based operations with wireless connectivity options including cellular, satellite, microwave, or ethernet networks.
The most advanced security trailers deserve the most advanced surveillance platform
The Stallion surveillance platform boasts the most powerful analytics on the market.
Detect people, vehicles, license plates, objects, PPE on multiple sites from a unified platform.
Set custom alerts based on your qualifications to deter and catch criminals, keep your employees safe, and protect your investments.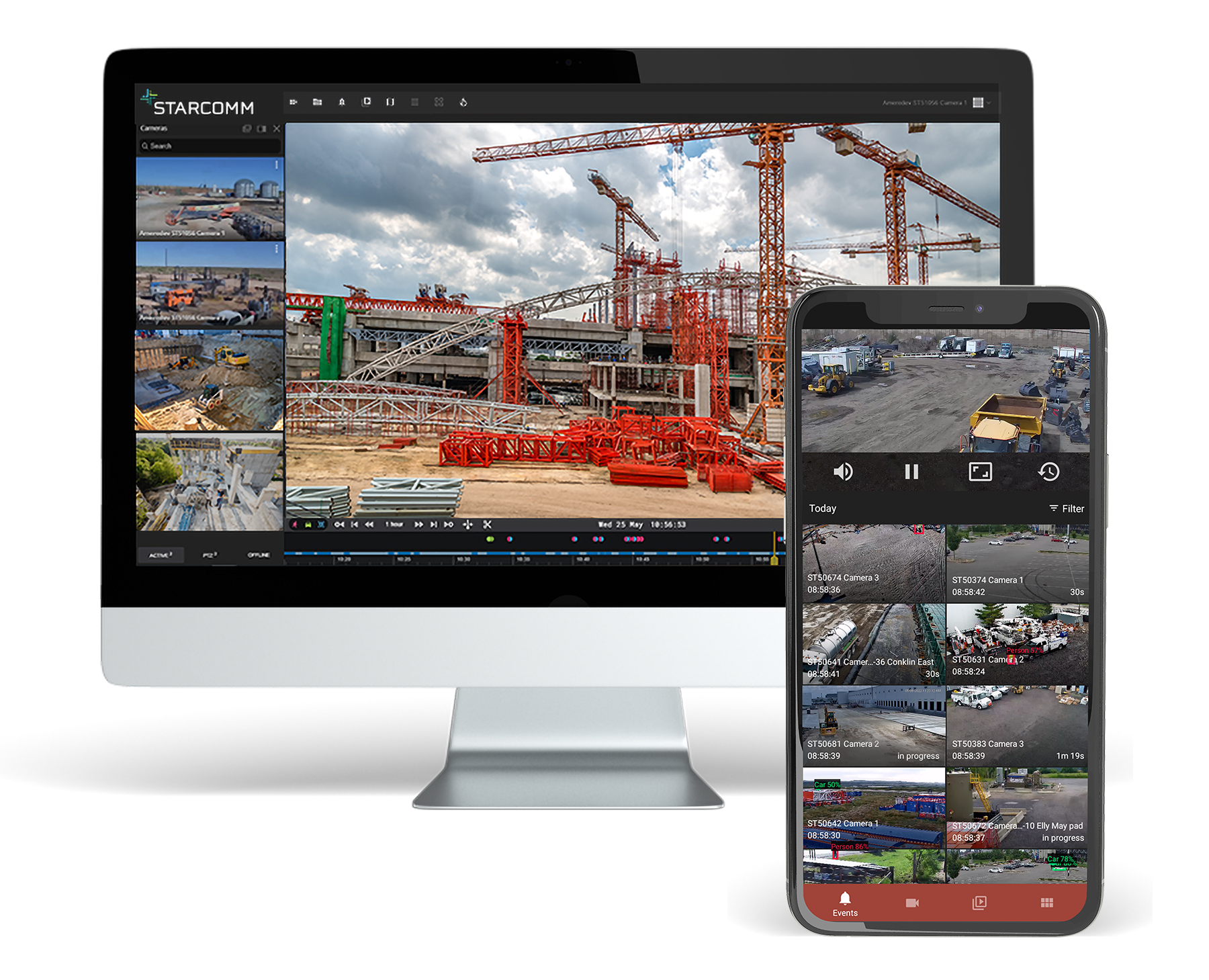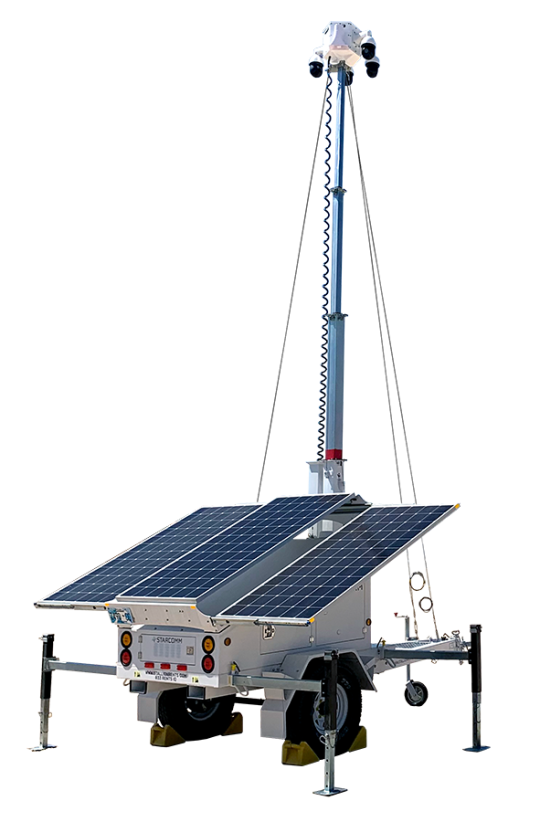 Mobile Surveillance Trailer
When portability is a requirement, our wheeled surveillance trailers provide a turnkey solution for site security and surveillance needs and can be moved throughout your environment as needed for complete oversight.
Wide-track trailer for maximum stability
Customizable with specialized camera options
Wireless with no external connections required
Supports cloud-based management and analytics
Request a Quote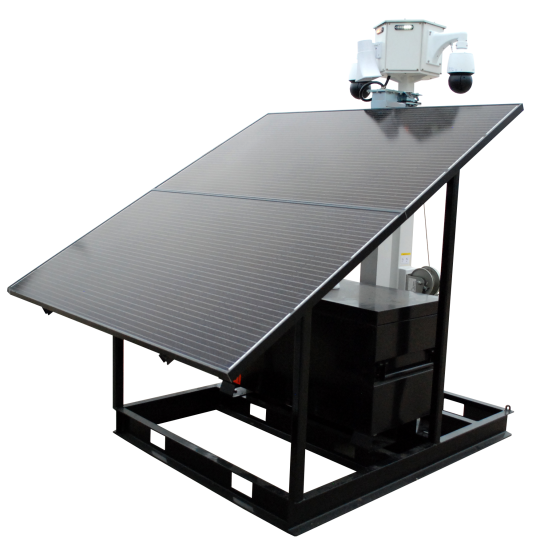 Fixed Surveillance Unit
Our skid-mounted units provide a fixed solution for areas requiring ongoing surveillance. Rapidly deployed and self-sustaining, they can be positioned to capture footage from virtually any angle.
Stand-alone, low-maintenance solution
Customizable with specialized camera options
Wireless with no external connections required
Supports cloud-based management and analytics
Request a Quote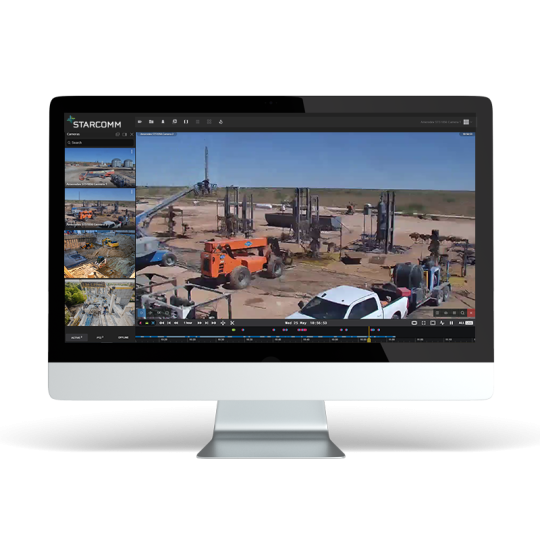 Video Surveillance Portal
Enhance your camera-side feature sets with remote accessibility and advanced analytics via Stallion's cloud surveillance platform. 
Unified multi-site surveillance
Multi-tier administration and access management
Advanced filtering, calibration, and detection capabilities
Specialized video analytics modules available
Compatible with all Stallion solutions as well as other brands
Request a Quote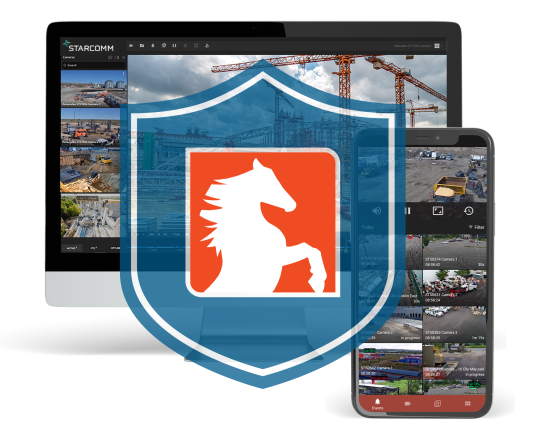 VMS & Human Monitoring
Deter theft, reduce false alarms, and ensure PPE compliance with Stallion's video monitoring services, fully customizable to protect your site 24/7/365.
Analytics and real-time alerts
Instant notifications to Stallion's monitoring center
Remote access to live/recorded video
Efficient dispatch and incident management
Request a Quote
Camera Options
Customize your cameras for your Mobile Surveillance Trailer or Fixed Mount setup based on your security needs. Stallion builds customized solutions for locations large and small using a wide-variety of cameras from high-quality manufacturers.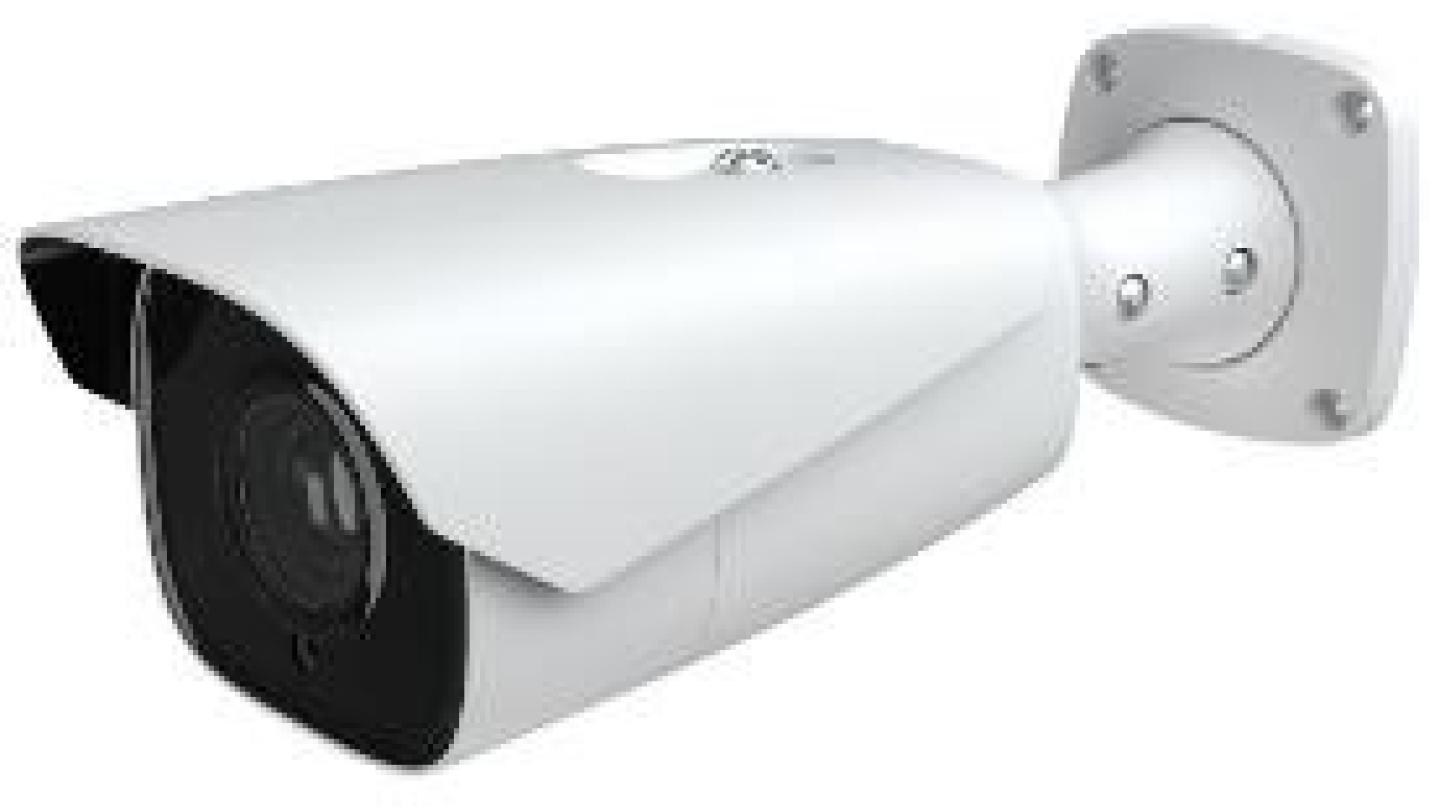 License Plate Recognition Cameras
LPR cameras automatically capture license plates of passing cars in real-time. Combined with Stallion's video monitoring system and cloud analytics, LPR cameras can send notifications if a vehicle on a watch list passes by.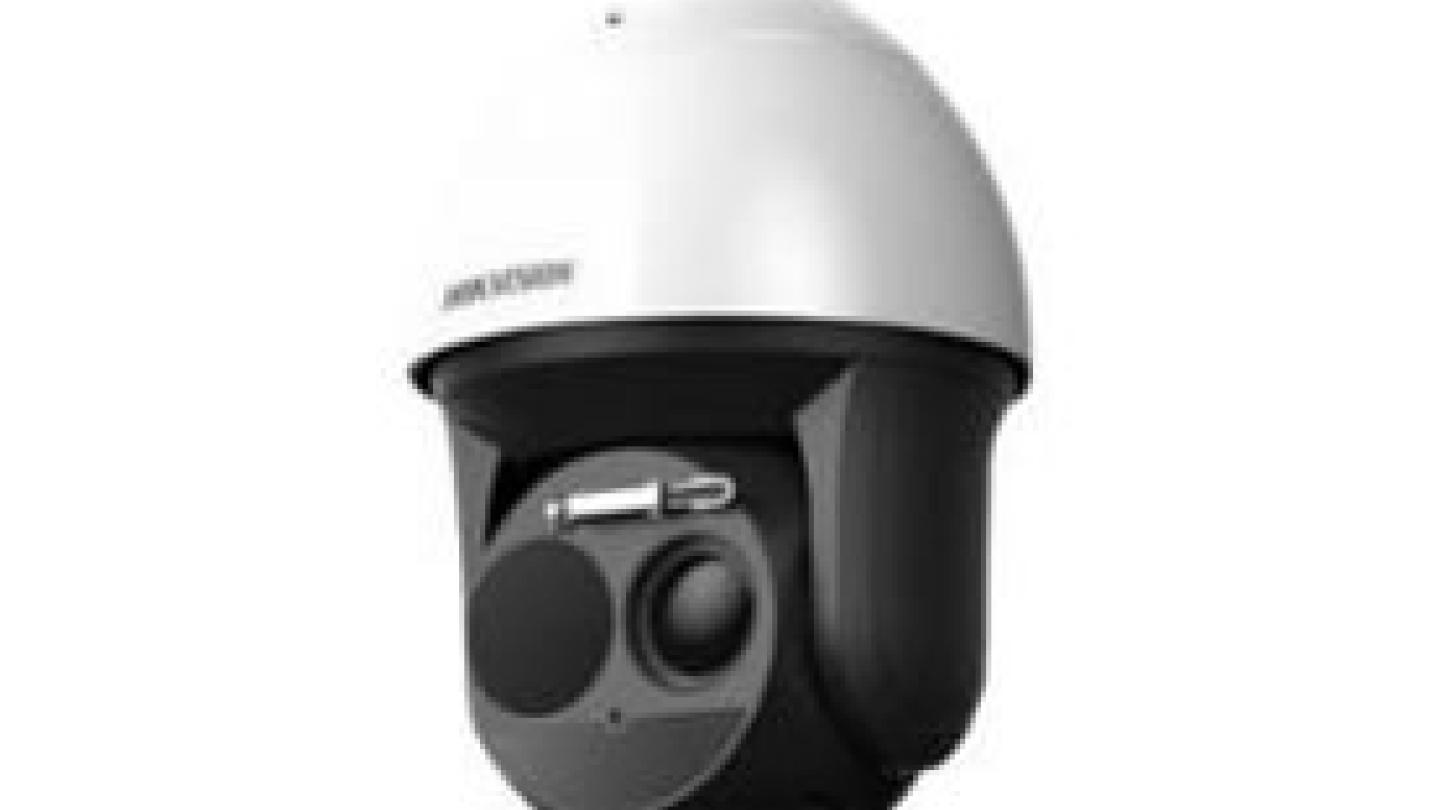 Thermal Bi-Spectrum PTZ Cameras
Stallion offers thermal and optical pan-tilt-zoom cameras in one for maximum coverage day or night. PTZ cameras can be controlled manually or track movement automatically through behavoral analysis algorithms.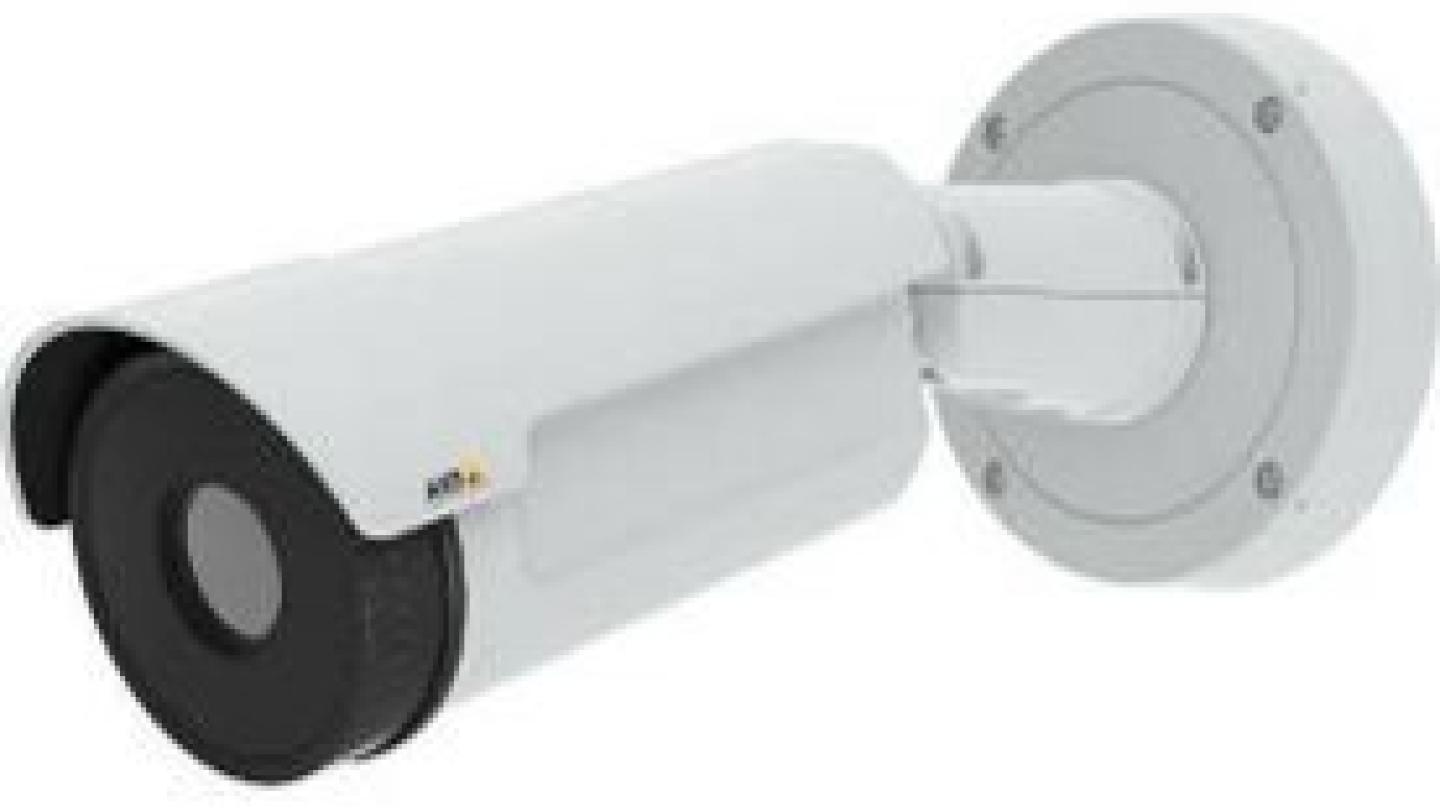 Thermal IP Fixed Cameras
For perimeter protection, Stallion offers Thermal IP Cameras that detect incidents, objects, and people around the clock. Thermal imaging secures your location with outdoor monitoring and early fire detection.
Get end-to-end IoT data and connectivity with SIMETRY, including simple data plans, managed services, and carrier choice flexibility.