A culture of safety
At Stallion, no job is so urgent and no service is so important that it prevents us from taking the time to perform our work safely. The safety of our employees and our customers is always of paramount importance. From our beginning, Stallion has maintained world-class performance, processes, and procedures that are leading the way in quality, health, and safety in a variety of critical industries across the nation. We reward employees for their commitment and achievements in bolstering health and safety in our workplaces.
We also strive to operate in the most environmentally responsible manner possible, with a focus on mitigating our impact on the environment and protecting it from avoidable hazards. It is our commitment to work safely, protect our environment, and look out for our fellow worker, the result of which is to create and foster a culture of quality, health, and safety.
EMR
Experience Modifier Rating
---
0.86
Sept. 30, 2022
ISNetworld
RAVS Plus Verified 400-131277
---
17 yrs
Since Sept. 2005
Avetta
Premier Member 44405
---
10 yrs
Since 2013
Safe Driving Program
The Safe Driving Program rewards team members who operate Stallion vehicles without incident on a yearly basis. Many of our drivers have more than 10 years of safe driving history.
President's Award
The annual President's Award is given to employees who have taken above-and-beyond action to promote a culture of safety or prevent a serious incident from occurring on a job site.
Safety Excellence Award
Field locations without an OSHA-recordable injury are recognized annually with the Safety Excellence Award, exemplifying Stallion's philosophy of safety in everything we do.
Annual Safety Summit
Our HSE team meets annually to develop a safety plan and prepare for the year ahead with supplemental training and certification courses.
Risk management and compliance
Stallion's HSE team performs regular audits and reports on safety and compliance metrics to ensure the highest standards of safety are upheld in every project. In addition to robust training and recognition programs for employees who exemplify safety at work, Stallion leverages data and develops initiatives to ensure consistent compliance and risk management.
Job Safety Analysis
Behavior-Based Safety Program
Near-Miss Reporting
Accident Reporting
QHSE Compliance Auditing
Stop Work Authority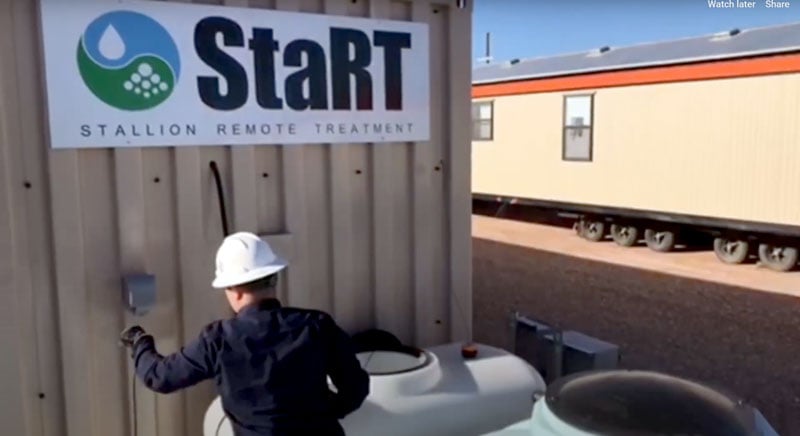 "We appreciate when Stallion drivers come onto location because we know their job tasks are going to be done safely. When completing an equipment inspection, our driver noticed the gray water tank on our STaRT unit was overfilling and found the ball valve in the restroom trailer was left open. This could have been much worse if he did not speak up or properly check the equipment."
— James T. Wade, Marathon Oil Company