Reliable remote monitoring services
Support on-site security personnel and maintain security practices with Stallion's 100% effective remote monitoring service. Our virtual guards help to deter theft, reduce false alarms, and ensure procedural compliance across your site, and the solution is fully configurable to ensure specialized, around-the-clock protection for your people, projects, and assets.
Stallion Surveillance Monitoring Advantages
Response time is less than 4 seconds
In-house monitoring owned and operated, specialized to monitor our equipment
Professional operators comprised of veterans and former law enforcement personnel
Best-in-Class Security Monitoring
Protect your sites with 24/7 security monitoring and real-time response.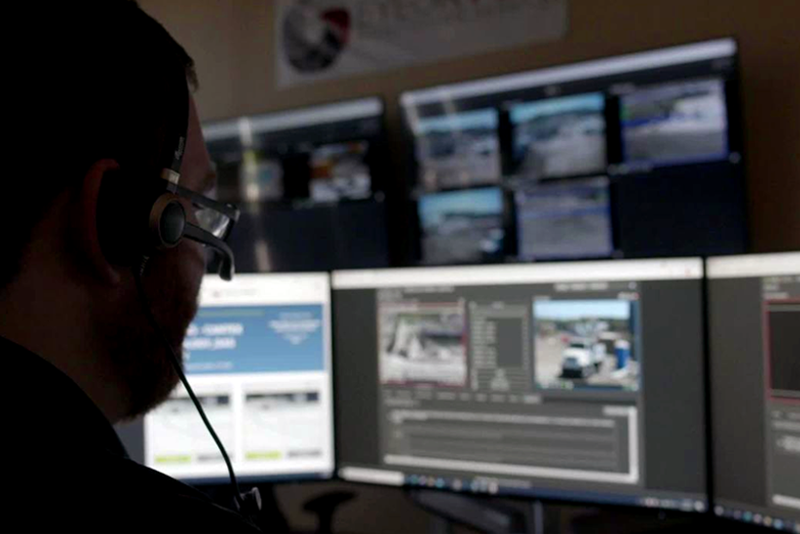 Effective Security
Monitoring services 
Deter theft, catch criminals, reduce false alarms, and ensure PPE compliance with Stallion's video monitoring services, fully customizable to protect your site 24/7/365.
Streamlined processes for simplified customer/operator interaction

Flexible and easy to use Arming & Disarming functionality

Automated Video Alerts push video to customers and police in real-time

In-house professional operators monitoring your equipment

Unified teamwork approach involving technicians, operators and customers

Developed and maintained by active, involved ownership - ensures integrity, sense of purpose and customer focus
Stallion Surveillance Monitoring Service
Advantages
18+ Years of Industry Experience
We are backed by over 18 years of experience in the jobsite surveillance industry.
Highly Trained Veteran and Professional Staff
Our team is comprised of veterans and former law enforcement personnel, including former members of all 4 branches of the military.
Industry Leading Proactive Virtual Guard Services
Our virtual guard services can monitor existing CCTV video security systems to perform real-time monitoring of your property, conduct compliance audits, virtual property tours, and remote access controls.
Incident Reporting Technology
Our Incident Reporting Technology pushes real time videos to police and end users.
Active Industry Association Member
We are active members of the Home Builders Association, TEXO, American Subcontractors Association, Arizona Builders Alliance, Associated General Contractor of America, Greater Houston Builders Association, and more.
Request a Quote
Tell us about your project. Our reps will reach out to discuss your requirements and find the best surveillance solution for the job.